Things To Do In Chicago with Kids – Since I moved to Chicago in 2005 and lived in the South Loop until embarking on our RTW journey. We grew to really love the city and try to impress upon everyone we meet what a great place it is to visit and live. Chicago is visited by almost 30 million tourists every year. Undoubtedly, the best time to visit is during the spring, summer and fall months. Chicago parks are green and filled with bikers and families picnicking, there are festivals nearly every weekend, boats are scattered across Lake Michigan, you can find the best views and Chicagoan's are friendlier having emerged triumphant from another long, harsh winter.
Things To Do In Chicago with Kids
It's okay to do touristy things in Chicago with kids. Tons of people from the suburbs and Midwest come to the city for that exact reason. Join the masses. There is a reason 30 million people visit each year! The summer festivals in Chicago are enjoyed by everyone. I really love our many music festivals (Jazz, Blues, Celtic, Latin, Gospel, Lollapalooza, etc.). Most of these festivals occur in Grant Park, so you can't miss them. If you are in the city on a weekend, head to the Park and you'll most likely run into some kind of event. They are free to enter, but you'll pay a high price for food and beer, especially at the massive "Taste of Chicago" at the Fourth of July. Check out ExploreChicago.org for the schedule of events.
Chicago Riverwalk
The Chicago Riverwalk takes you along the river and through downtown streets in an effort to bring life back to this urban space. It was built in 1999 as part of the Millennium Park project. Walk from Grant Park all the way up past Buckingham Fountain and the Art Institute of Chicago. If you're lucky, you could catch a glimpse of the swans gliding across the water in their pen. You will pass lots of restaurants, bars, museums and shops which are worth exploring. There is also a bike trail which runs adjacent. There is also a pedestrian bridge near Wacker Drive where you can get off the main path and walk over the railroad tracks. This area has been recently redone for a safer environment and is much more family-friendly than it used to be. Many people take the bus in order to access the waterfront, but if you have a car, parking is very cheap.
Maggie Daley Park
The park is located on the shoreline of Lake Michigan, with sandy beaches, picnic areas, playgrounds, sports fields, tennis courts, volleyball nets, and more. The park was named after Maggie Daley, who served as Mayor of Chicago from 1989 until 2011. Maggie Daley Park is a magical place where you'll find a Skating Ribbon, a 3-acre Play Garden created in the spirit of Alice in Wonderland and Charlie and the Chocolate Factory, a mini golf course that takes you through Chicago-themed obstacles (like a mini Willis Tower), and a climbing wall right on the lakefront.
Lincoln Park Zoo
This zoo features over 2,000 animals representing about 200 species. Kids love the giant pandas, polar bears, penguins, gorillas, elephants, tigers, lions, and Komodo dragons. A number of special programs have been developed for children including Storytime at Lincoln Park Zoo, which introduces story concepts using animal sounds and behaviors; Wild About Nature, an interactive program in which visitors use their senses to explore natural habitats around the world; and ZooTunes, a fun music experience for all ages.
Chicago Children's Museum
I have never seen such amazing science and art activities as this museum offers. Kids of all ages will enjoy this interactive museum with its hands on exhibits: building a house made of LEGOs to learning how a caterpillar becomes a butterfly. The Chicago Children's Museum is designed to be a space for exploration, discovery, creativity and innovation. Its collections include everything from dinosaurs to architecture, and it has a variety of permanent installations, temporary exhibitions, educational programs and performances.
Garfield Park Conservatory
There are over 50 indoor gardens spread throughout three climate zones, providing visitors with access to plants found only in North America and much of South America. See hundreds of varieties of palms, ferns, bromeliads, orchids, succulents and trees and more than 4,500 flowering annuals. With its unique collection of palm trees, including the longest in North America, the Conservatory offers something for everyone. The conservatory also houses a series of outdoor garden rooms surrounded by tropical rain forest. One of the largest conservatory in the country.
Shedd Aquarium
An aquarium devoted purely to fish and aquatic life, the Shedd is home to almost 5,000 creatures and more than 1 million gallons of water. If a fish isn't enough, there's also plenty of sea mammals and reptiles.
Willis Tower Skydeck
If you're looking for some thrills while in Chicago, then the best way I know to do so is to go up into the sky. Take the elevator to the 103rd floor of the tallest building in the city and get ready for a bird's eye view. There you will see beautiful views of Chicago and other surrounding cities. You can even take pictures and video footage of your favorite landmarks.
North Avenue Beach
Located along the north side of Lake Michigan, North Ave Beach boasts two miles of pristine sand, several concession stands to eat at, volleyball nets, basketball courts, playground equipment and a great view. It's perfect for swimming, playing beach volleyball and just relaxing.
Ravinia Festival
Ravinia is arguably one of Chicago's greatest cultural treasures and certainly deserves a spot in any visitor's top 10 list. Over the summer months the park hosts a free classical performing arts festival that attracts musicians from around the globe. This year's featured artists included Yo-Yo Ma, Renee Fleming and the Staple Singers. Performances run from July 15th until August 17th.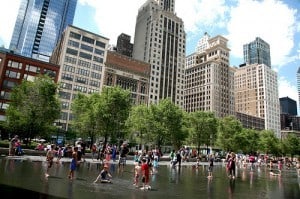 Millennium Park
Millennium Park, the Magnificent Mile, and Navy Pier are among the top tourist attractions, but Millennium Park tops our list. The park is suspended over an unsightly commuter train yard, and you'll want to check out the ever changing modern art. The highlight is the Pritzker Pavilion designed by renowned architect Frank Gery. You'll see locals with picnic baskets discretely enjoying wine or beer, spreading across the massive lawn. You'll also want to gaze into the Cloud Gate (aka The Bean) for hours and watch kids splashing in the Crown Fountain on a hot day. The Art Institute of Chicago is directly South of Millennium Park and also worth a visit. Entry is free of charge on a designated evening (usually Tuesdays) in the summer. Check with the museum to be sure. There can be quite a line to get in on free admission days, so get there early.
The Magnificent Mile can be reached on foot from Millennium Park. This stretch of Michigan Ave (from the Chicago River north to Oak Street) is known for it's shopping, nightlife, ritzy condos, and architecture. Coach, Tiffany, Chanel, Bebe, Ghiradelli, and Water Tower Place (our massive shopping mall) are all along the way. There are some historic buildings on the Magnificent Mile as well like the Wrigley Building, the Tribune Tower, and the old Water Tower. Navy Pier is also popular, but I say skip it. It is essentially a big tourist trap and shopping mall…except on a lake. We avoid this place unless we are seeing a movie at the iMAX theater. You can take a high speed boat ride from the pier or just walk around and people watch.
The Pier isn't all bad though. Every Wednesday and Saturday evening, there is a fireworks show. If you decide to visit, prepare yourself for screaming kids and the sweaty masses. Rather than the speed boat tour, I highly recommend the architectural boat tour by Wendella on the river. The guides really know their stuff and the views from the water are beautiful. Chicago has the best architecture in the United States, and this tour is very informative.
Peggy Notebaert Museum of Art
This museum has a wonderful collection of art including works by Monet, Renoir, Cézanne, Picasso, Matisse, Degas, Warhol, Lichtenstein, and many others. This is one of Chicago's most popular museums, A must see!
Natural history museum
What is it? A natural history museum dedicated to science, art and culture. With more than 300 million years of evolution on display, the Field Museum is a must-see for any budding paleontologist. You can also find dinosaur fossils, Egyptian artifacts, Native American treasures and an entire wing devoted to dinosaurs.
Chicago Field Museum
The Field Museum in Chicago holds one of the largest natural history collections in the world. While it might not be your first choice of museum to visit, Free admission and the Best time to visit? Anytime during open hours. A fun fact about the Field Museum: It was the first building in the world to have glass floors installed – allowing viewers to look straight down into excavations. Kid friendly activities/activities for adults: There are lots of interactive exhibits here including "Life Science Center" where kids can experience live animal feedings and learn how animals eat. Kids will love visiting the Butterfly Conservatory where they can see thousands of colorful butterflies fluttering around them.
Chicago Public Transportation
This is not Los Angeles– automobiles are not required. Regardless of how you arrive, you'll be able to get around using the public transit system. Riding the train is part of daily life in this city, and you will fit right in with the locals. The elevated train system (called the "El") is over 100 years old and is a sight to see itself. The tracks make a loop in the city center before branching out to the many neighborhoods. You can easily travel from one side of the city to the other and even to a few suburbs. You can't beat that. The Chicago Transit Authority (CTA) has a great trip planner to help you find your way, and you can also see the El lines on Google Maps. The new bus tracker system will let you know if you have time for one more Old Style. You can even pull it up on your smart phone!
Family Friendly Restaurants – Chicago Pizza and Hot Dogs
You can't visit Chicago without trying a famous deep dish pizza. Chicago deep dish pizza consists of a thick crust, inlaid in a round cake-like pan about an inch and a half deep, filled with lots and lots of cheese, meat, and veggies. The best known and most frequented pizza joint is Giordano's. However, I highly recommend Lou Malanati's instead. We think the crust is better and they really pack their pizza full of ingredients instead of using loads of cheese as a filler. There are two locations that are easily accessed with public transportation from the Loop.
The South Loop location can be reached by taking the Red Line to the Harrison stop. The River North location can be reached on the Brown Line Merchandise Mart stop. At Lou's we always get a small "Malanati Salad" and "The Lou" with sausage and a root beer. I can only finish about a slice and a half, so don't order too much! There is much more to Chicago than pizza and hot dogs, however. There are some great neighborhoods where you can get a pretty eclectic mix of high quality foods. You'll have to go a bit outside of the tourist zones for some of these treats, but it is worth it!
Then, there is the Chicago Style hot dog. The classic Chicago Style Hot Dog is an all-beef frank, boiled, on a steamed bun (preferably with poppy seeds) and topped with fresh onions, green relish, pickle, tomato, mustard, one or two hot peppers, and celery salt. No ketchup! (If you ask you may be scolded or ridiculed.) There are endless number of places to get a dog in Chicago, mostly in the neighborhoods. There are very few street vendors downtown and they won't be serving up high quality dogs. Here are a few hot dog places that are reachable from the loop on public transportation: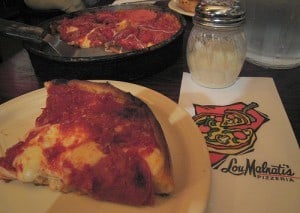 Chicago Hot Dog Restaurants
Portillo's: My Favorite
Local chain that serves up a good dog. You'll find a couple of locations in the city.
Wieners Circle:
This place on Clark St. is a favorite for late night snack. The workers are known for being rude and insulting. Flub a Dub Chub's: family run joint in Lakeview. Good dogs! (and burgers too)
Jim's Original Hot Dog:
Near the Medical district just west of the South Loop, this place has been serving up dogs for decades. You can also get a great polish sausage with grilled onions.
Hot Doug's
Hot Doug's is an encased meat emporium and not a great place for vegetarians. Doug grills up some great creations with exotic meats (elk, ostrich, pheasant, and foie gras) gourmet toppings, and interesting sauces. He also does a great, simple, Chicago Dog. You'll wait in line for an hour or more in the summer, so be prepared. But, it is worth it. You'll want to go on a Friday or Saturday when he makes the fries with duck fat. Sounds strange, but I promise you'll love it. When we go with a group of friends, we usually each get our own dog and a few to share. Work, family, kids…those are just ways to kill time between trips to Hot Doug's.
Superdawg
Superdawg is another Chicago institution. The iconic hot dog figures on top of the restaurant are well-loved by Chicagoan. It's been around since 1948. This drive up joint puts a little twist on the Chicago Dog, but it is a definite favorite for locals. Grilled onions, spicy mustard, pickled tomatoes, and crinkle cut fries are their specialty. They also have burgers and great shakes and malts.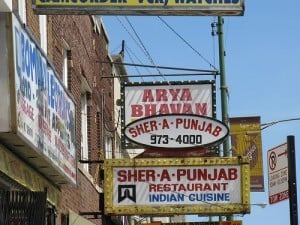 Indian and Pakistani food in Chicago
Devon Avenue is where you'll find great Indian and Pakistani food. It's a LONG way north on the Red Line or you can drive. It is absolutely worth the trip. The food is cheap and oh so delicious. The street is lined with restaurants, spicy smelling markets, and shops selling beautiful saris.
Mexican Food in Chicago
Pilsen is the place to go for some great, cheap Mexican food in the city. This area is known for it's Hispanic inhabitants. You can find great street tacos and tamales as well as really affordable "sit-down" type restaurants. The pink line will take you there, or you can drive.
Greek Town
Greek Town is definitely on the tourist radar, but well worth it. Take the blue line to Halsted. We recommend Greek Islands where you'll get the signature flaming saganaki with a loud "Opah!" from the crowd. If you want a quick bite, then just grab a gyro at a corner joint. Rainbow Cone has the most unique ice cream cone in the city. This layered cone is a blend of chocolate, strawberry, orange sherbet, Palmer House (their special creation), and Pistachio. To get to the original location that is celebrating it's 80th year, you'll need to drive. Public transportation will take you to some areas of the city that I would not suggest going on your own. Luckily for tourists, there is now a downtown location at the corner of State and Lake, right under the El tracks, near the Chicago theater.
(photo credits: chascarper – bernt rostad – Myles – vincent desjardins – cwwycoff1)