Now that autumn is on its way and the days are darker and shorter, I think it's a good time to introduce some creepy abandoned places in Europe that are worth checking out – but only for the brave!
There is something about abandoned places which is so fascinating, perhaps it's the feeling of looking into a glorious past that has fallen apart, or the adrenalin kick of doing something naughty – like trespassing and jumping over fences that are strictly forbidden.
Whatever it is, if you have the courage, these are some places in Europe that have been abandoned and are waiting to be explored.
Spreepark, Germany
This theme park in east Berlin used to be hugely popular, bringing in millions of people every year, but after the Berlin wall fell in 1989 its decline began.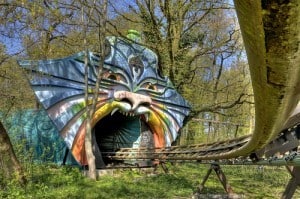 In 2001, only about 400,000 guests came to visit before the park finally closed down due to bad decisions, dodgy business going on and raising prices – with a debt of about 11 million Euro…
The park owner Norbet Witte escaped to Peru, bringing his whole family and six of the park's attractions, tricking the German government that he left to repair them.
He later tried to open up a new theme park in Lima but failed, and in 2004 he was jailed for trying to smuggle 21 million Euro worth of cocaine in the masts of the "flying carpet" ride back to Germany.
Norbert Witte's fun park in Berlin can be found right where he left it to rot, with rusty roller coaster rides and the 45 meter high "ferris wheel" which still stands tall.
It's strictly forbidden to go inside, and apparently there is a guard with a dog coming past every so often, so be very careful if you decide to jump the fence!
Prypiat, Ukraine
This is one of the saddest stories behind an abandoned place that have ever existed.
The ghost town of Prypiat was built to house the families of workers at the Chernobyl nuclear facility, and grew from zero to 50,000 and back down to zero following the largest nuclear power disaster in human history.
Prypiat is a freeze-frame of 1980s Soviet life – propaganda slogans still hang on the walls, and children's toys and other items remain as they were.
You can visit the area by arranging a tour with a guide, who will take you around to the abandoned schools, kinder gardens, the cultural palace, hospital and the theme park…
For some reason, the amusement park in Prypiat opened on April 27 1986, the very same day that the city was evacuated due to the Chernobyl disaster.
Some say that it opened, some say it never did, but there are photos of kids and families visiting the theme park and using the attractions – and some say it opened to keep the people busy while waiting to be evacuated.
High Royds Asylum, England
This former mental hospital in West Yorkshire was first opened 1888 as the "West Riding Pauper Lunatic Asylum" and closed in 2003.
It's a beautiful building with a clock tower, fine Italian marble, glazed tiles and an eye for detail. They spent a fortune building the clinic, the equivalent of 135 million pounds by today's standards.
The thought was to make the clinic into a self sufficient community with a bakery, farm, kitchen and even a fire station and railway.
Honestly, it looks more like a palace than a psychiatric institution, but there is a new documentary revealing what was really going on at this place, and about all the people who were dumped there by society because they couldn't fit into the norm.
The place has really deteriorated since it closed down, and despite guards people have snuck inside to take picture of what looks like a pretty damn creepy place.
It is currently under conversion to house apartments in the main building. I don't know if it's finished yet, or if there is still time to sneak around the area and have a look. Whatever they turn it into, it won't be anything near the usual holiday cottages Yorkshire is so famous for…
Personally, I would prefer to stay at the normal accommodation Yorkshire has in the town, and go to High Royds during the day to see the very few "anonymous gravestones" that remain of the 2 858 patients who passed away there.
I would NEVER want to sleep at this place, let alone actually live there!
Prison Castle Burg Hohenwerfen, Austria
The Prison Castle – Burg Hohenwerfen, Austria
What is today nicknamed the "adventure castle", wasn't always such a happy place. This castle has mainly been used as a prison throughout its long history dating back to 1078, and many historical rulers were held captive here throughout the years.
Many prisoners spent their last days alive in the dungeons of this castle, but today they hold concerts, tours and different kinds of shows in the castle. The most famous shows are the "bird of prey" show and the falconry show.
Haunted Castle Chillingham Castle, England
There are heaps of castles in England, all famous for different things.
This one is known to be perhaps one of England's most haunted places – the castle is said to be home to at least 60 different ghosts, and people have reported hearing voices and strange sounds, despite being all alone.
While the Northumberland cottages are really cute and cozy, if you're looking to go all out in scaring yourself as much as possible, you could stay at one of the most haunted hotels in Great Britain – The Schooner Hotel, which is nearby.
Personally I would choose a safer option and find some Hexham accommodation instead and just go along for a ghost tour instead, but it's up to you – do you dare!?
There are many more abandoned places in Europe to visit, share your recommendations!