EuroRail vs BusAbout vs InterRail – Summer has finally arrived in Europe, and thousands of travelers are packing their bags and backpacks to explore everything that Europe has to offer.
Spring, autumn and winter all have their perks, but the truth is that Europe is never as beautiful as during summer, and while accommodation can be harder to come by, there are so many more events and so much fun to experience in Europe during these months that you don't want to miss!
But what is the best way to see Europe?
There are many ways to choose from, but two of the most popular are BusAbout, EuroRail and InterRail (or EuroRail – which is the same company for those of you who are not European citizens).
Let's compare them both…Bus Transportation Why You Need for Corporate Events
EuroRail vs BusAbout vs InterRail
InterRail has train passes which offer free and heavily discounted travel on trains in 30 countries in Europe (EuroRail offers 23 countries).
Why Travel InterRail (EuroRail):
There are different types of passes to choose from – you can get off wherever you like (although you have to write down the destination on the pass when boarding the train) and stay for as long as you want.
EuroRail Extensive Network
The train network is very extensive in Europe, especially in the north, where train travel is also very efficient.
InterRail Freedom
There is no set route that you have to follow with InterRail, you're free to travel wherever you want, in whatever direction and order, and it is often possible to make it up the same day and board a train without reservation, or reserve a seat just before jumping on.
EuroRail Comfort vs BusAbout Comfort
Trains are most often not as bumpy as buses, and traveling with modern trains is comfortable – if you have a seat or bed, that is…
EuroRail is Time Efficient
The sleeper cabins are often very good (so you won't be too disturbed by spending the night on a train), and give you the opportunity to spend the nights traveling between the destinations (time efficiency), and therefor save money by not staying at hostels as often, while at the same time spend less time traveling during day and more time to explore cities.
Travel InterRail (EuroRail)
InterRail vs EuroRail can be Confusing
The different passes can be a bit confusing, and you have to make sure that you really understand how many and on which days you can travel.
Nobody wants to get caught on the train for traveling on days they're not "allowed".
EuroRail Hidden Costs
InterRail works together with public and private trains, and depending on the operator they have different "deals".
This means that while many of the trains are free of charge, some only offer discounts, and many of them require that you reserve a seat: which will cost you between €1-€10 per train ride (some even more).
Traveling EuroRail Requires Good Planning
Depending on your pass and the countries you'll be visiting, traveling with InterRail can require more or less planning, often more.
Some popular stretches and trains offer very few number of seats for InterRail travelers and require that you book months in advance.
This might not be the case for you, but since it can easily happen you should plan in advance and double check, so that you really get the most of the pass.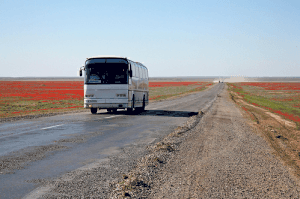 BusAbout
BusAbout is a bus company that offers different routes and tours – while they do have trips like island hopping in Greece or tours in Morocco and Portugal among others, they are perhaps most famous for their Hop-On Hop-Off trips.
On these trips you can choose different routes to travel and have the freedom to hop on and off as you like where they stop.
Why Travel on BusAbout
Guides On BusAbout Coaches
The buses are staffed with professional guides who will share information about the destinations you're heading to.
Make Friends Eaiser on BusAbout
As everyone on the buses are tourists you will be guaranteed to meet other travelers, and since you will likely sleep at the same hostels (the buses stop in front of their recommended hostels) and do activities together, you can easily bond and make friends.
BusAbout Optional Activities
BusAbout offers activities (for additional costs) and can help you out with accommodation at every destination.
BusAbout has No Surprise Costs
You won't have to stand up during the journey, and there are no surcharges for the actual bus rides.
BusAbout Has Fewer Options
While the train pass covers almost the whole of Europe, BusAbout has selected routes and stops, and therefor gives you fewer options to "go off the beaten track" and plan the trip exactly however you like.
BusAbout offers about 30 destinations while the options with InterRail are closer to 30,000 – also, you can only go in one direction.
Limited Flexibility Traveling via BusAbout
While the frequency of trains obviously vary highly, they often go several times per day.
BusAbout serves each stop less frequently, sometimes only every second day.
Some stops are mandatory and will require you to stay there for two days, although fortunately those stops are popular anyway.
During the high season you should book in advance to avoid getting stranded for longer than planned, as the buses obviously have fewer seats than trains and run less frequently.
Non-Local Experience
BusAbout is for tourists, not for locals – so you won't get a local experience on this bus the way you would on a train.
Keep in Mind EuroRail vs BusAbout vs InterRail (EuroRail)
A detail worth noting is that BusAbout is very popular with young travelers in their 20's, which is great if you're the same age – but perhaps not as exciting for older travelers and couples.
InterRail is used by travelers of all ages and for various purposes, from newly-weds on their way to Portugal for exclusive honeymoon packages, budget travelers trying to save every dollar, or families wanting to spend a few weeks exploring Europe.